Adoption of digital property solutions has been strong in FY20, and though the immediate future post COVID-19 is uncertain, the industry must retain the same resilience it's demonstrated in the last few months to move through what will come around the corner.
The financial year has drawn to a close – and it's certainly been a testing twelve months for our property industry.
Though in a recovery phase, there were promising signs of a successful market rebuild at the end of 2019 – national dwelling values were up 2.3% year on year, 4% in the December quarter and 7% over the previous six months.[1]
PEXA transaction volumes were at record highs too, with the market completing 225,000 digitally in December alone – a then-record.
Significant challenges
However, this momentum was abruptly halted when the bushfire crisis struck.
In the face of this devastating event, it was wonderful to see our country rally together to assist those impacted. Within our sector, we saw some exceptional work being done by so many, including the financial services organisations, who delivered swift financial relief packages and community support.
And just as it seemed we were turning a corner and moving forward, crisis hit once again – this time, it was the COVID-19 pandemic.
Residential property is Australia's most valuable asset class, worth $7.1T[2] and as our economy prepared to combat the threat of COVID-19, ensuring this market remained fully functional was critical.
The Australian Banking Association compiled data between 14 May and 19 June[3], in the peak of COVID-19, outlining the incredible volume of work completed to protect consumers and secure the economy.
As Australians faced uncertainty with their incomes, their businesses, their loans and their mortgages, there was extreme demand on the banking sector to accommodate relief packages, loan deferrals, new lending and more.
It's not an exaggeration to state that years worth of volume was absorbed into mere weeks – all while business continuity plans were being deployed and tens of thousands of bankers were in the midst of transitioning to remote working.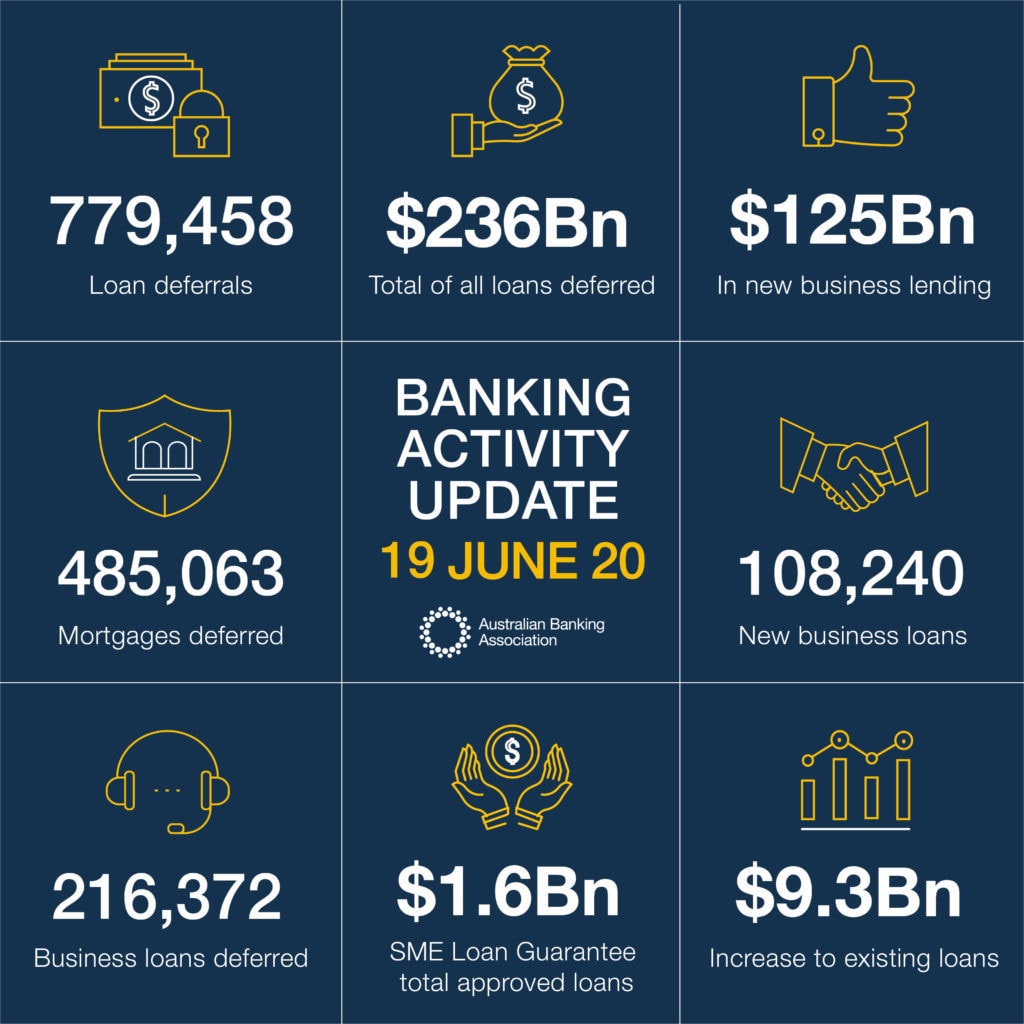 In a time where state borders were closing and physical distancing required, industry's embracing and execution of digital solutions to keep property settlements moving is something it should be proud of.PEXA data confirms the growth in this area – digital volume has increased in refinances and transfers nationally by 22% and 51% respectively, when comparing FY19 to FY20.
Post COVID-19 world
Just as it appeared the worst was behind us, we have been reminded of the significance and seriousness of the pandemic – with Victoria forced to re-introduce Stage 3 restrictions as it battles a surge in COVID-19 cases.
Though other states are not currently facing similar spikes, this setback will have a flow-on effect nationally.
The Federal Government's $213.6bn stimulus package, including the job-keeper and job-seeker payments, as well as further sizeable concessions, has stabilised the economy, in tandem with repayment deferrals, but the real challenge will come once these safety nets are lifted.
As we saw at the end of FY20, those in secure financial positions will be able to find competitive deals to refinance or reprice existing loans – in the month of June, digital refinances were up by more than 70% year on year.
However, for many, the next three to six months will be a difficult period. Job security, reduced capacity and migration will impact new and existing housing demand. Whilst the resilience of the property market has been strong, there is uncertainty ahead.
Though the immediate future post COVID-19 is yet unclear, we know there'll be challenges – and industry must continue to show the same resilience it has over recent months to move beyond the coming hurdles.
***
[1] CoreLogic Hedonic Home Value Index, December 2019 Results
[2] Core Logic Monthly Chart Pack (July 2020)
[3] Australian Banking Association – Banking Activity Update, 19 June 2020